Here we go again. I dated and it wasn't good.
Not to say it was aweful.
My date was in his early thirties, wrote super nice messages, is about to have his PHD and offered a first date at the beach.
'Perfect!' was what I thought about his idea, that's exactly what I like for a first date! Outside, super relaxed and unceremonious, without 80 people listening and watching us (who I later wished for). He got the drinks I covered the food.
We took his car to the beach and set up his beach shell. On the way to the beach we had nice and easy chats nothing hard or uncomforting. Setting up the beach shell he explained to me, how to set it up and did that a coulpe times so I felt like he thinks I'm not smart enough to do it without step by step constuction assistence. Not to mention that I grew up with a beach shell and yes my dear I'm able to remember things someone just told me.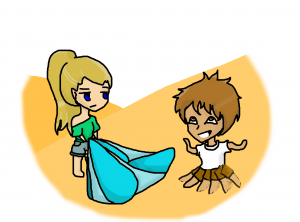 Well, each one of us has his own percularities, I've some of my own *twinkle*. Sitting inside the beach shell I had almost forgotten about his behavior. We ate and taked, the backgroud sound was the sound of incoming waves and passing seagulls. He had his first beer, I went with lemonade as we ageed earlier that day.
We layed back and kissed. While the first kiss his hand went straingt to my boob – What the heck?!?!?!!!
I pushed his hand away and moved away. He said he was sorry and offered me a drink, so I had a second lemonade, he went for his second beer – I'm glad I brought my drivers licence – was going through my mind.
He apologised  and we actually got the chat started again. Also I went with a second kiss, since he truly felt bad about his earlier actions – as I thought so.
I leard first had that I was wrong, expeditious I had his hand inbetween my legs right at my lady parts. I flinched, I somehow managed to keep the situation half way unawkward – we still had to go back in town by his car – he opened his third beer.
Finally we broke down the camp, again I got told how to, this time about how to remove the tent poles, I have to add he did it wring, if you want to remove them don't ever pull, always push… If you ever did that on you own you know what im talking about.
On our way to his car he also informed me about his bladder filling level and offered him in exchange that I can drive his car back in town. He agreed.
That's been one of the most silent drives I've ver had and when we got in town he nicely adviced me about the comon link of blone women and their parking skills. I was about to burst. The parcing spot I picked was big enough for two times his car and we only had one car with us.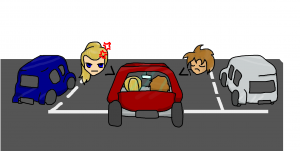 I left for my place and unpleasently I had to found out that one of my tupper boxes is missing AND WHEN IT COMES TO TUPPER I STOPP BEING FRIENDLY!
So the next day I passed by late afternoon to pic up my box. His female flatmate opened the door, couldn't find the box and called for him.
And oh wow! What an appearence I can tell!
Only wearing boxers and a T-Shirt, squeezed himself halfway on to the public hallway he told me with a whispery voice that my box is still in his car and he got no time to deal with it at the moment, he had someone over.
Well, what shall I do, I wished him a lot of fun and were back the other day picking up the box.
I'm so impressed what ugly kind of people you can meet in this beautiful world.
I wish you an wonderful weekend!
Your Julia